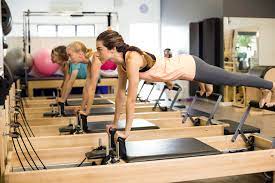 Description
The Pilates Studio offers a variety of exercise programmes centred around Clinical Pilates, but also offers a range of exercise classes including Kettle Bell, Spinning and T'ai Chi amongst others.
Our team of qualified Pilates teachers are a minimum CYQ Level 3 qualified and all trained by (and are members of) Modern Pilates, one of the major Pilates providers in the UK.
Our customers come to keep fit, enhance sport performance (e.g. running, tennis, golf, rugby, cycling, motocross and horse riding) or are recovering from surgery, illness or injury.
The Old Sawmill Surrey Street Derbyshire Glossop England
01457 858555
info@thepilatesstudioglossop.co.uk
thestudioglossop.co.uk